When Gabby was in the hospital, there was a particular book she loved, "Where is my Frog?" by Mercer Mayer. It's a sweet story about a little boy looking for his frog who had hopped away.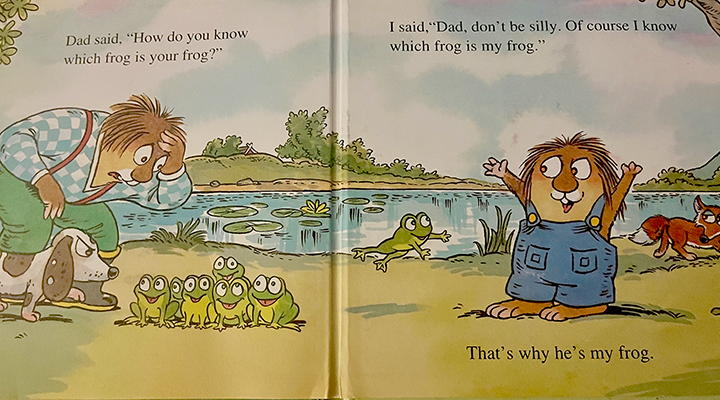 Silly moments over books and toys are the inspiration for Bags of Fun – sweet moments when a kid gets to be just a kid and their giggles and chuckles are louder than the beeping of the monitors.
When Bags of Fun decided to find a mascot, Gabby's love for that book hopped into our minds, and we chose a frog. After several attempts at the right look, we landed on the handsome green bullfrog we have today. We looked to the Bags of Fun community for the name, and Chuckles was born!
Chuckles is a silly frog that has an active social life. When he's not having fun at community events, he likes to perform TikTok dances, tell jokes, go to the lake, and visit Bags of Fun supporters.
This frog represents Bags of Fun not just because of a memory of a little girl tucked behind a book, but because the word FROG is often used as an acronym for Fully Relying On God. During the difficult days of a long term illness, fully relying on God is the mantra of many a parent and loved one. In that sense, this "frog" brings comfort in more ways than one.
When we see Chuckles, we remember the joy and hope that Gabby inspired. The same joy and hope Bags of Fun tries to put into every bag, to remind the kids that they are still just kids and to remind the families that they're not alone.